Well, not a poster as such. More of a magazine advert really. I drew inspiration for this image from the old Green Army Men ads you used to get on the backs of comic books of the 50s and 60s. I was pretty happy with the end result. It will most likely feature in the hobby section of the rulebook.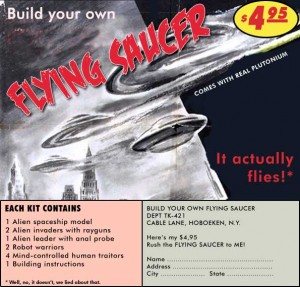 I've been in two minds about where to take Atomic Sunset and how to go about developing and producing the rules. I was leaning heavily towards doing it as a 'theatre of war' supplement for Flying Lead by Ganesha Games. That is a very playable ruleset and is gaining a strong following, which are very important considerations. But I just bought a copy of their first supplement, Hearts and Minds, and was singularly unimpressed by the amateurish production values and the excruciatingly bad grammar throughout the book.
So, my current thinking is to develop the game as a standalone ruleset and publish it myself as a PDF document. Still, that idea will no doubt change again before the end of the week.