One of my favourite vehicles, the ubiquitous Hanomag. The workhorse of the German war machine, this vehicle saw service on every front throughout the war. Produced in great numbers and myriad variants, the vehicle I have here is the basic version, used principally as an armoured personnel carrier.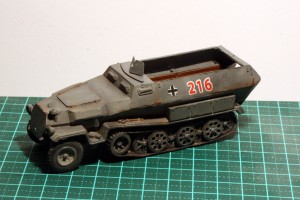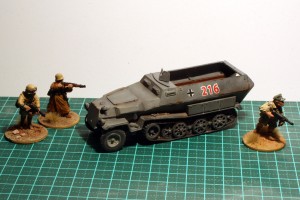 The model is from Die Waffenkammer, a Canadian company that produces exceptional quality 28mm WWII kits (I bought two Bren Carriers from them at the same time – they're next!) I'm painting this on commission, to represent a vehicle in Operation Barbarossa with the 2nd SS Das Reich Division.
It's nearly finished and should be ready for delivery within the week. It's pictured here with some DAK figures I have for comparison purposes.