I finally got around to doing a scenic base for my giant scorpion (see my previous post), the first mini in my collection for Atomic Sunset. I chose to place him on an urban roadway, partially to set the scene for a bug invasion, and partially to give a sense of scale to the model. The fire hydrant is from Pulp Figures and comes as a part of their excellent 'Gangland Justice' set.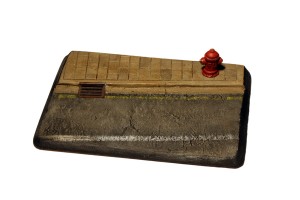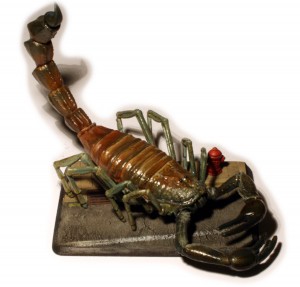 The base measures 11cm x 8cm and is made from 3mm MDF and balsa. The surface is coated with polyfilla and textured to represent a road surface and also a paved sidewalk. The cracks in the roadway and the paving stones were scratched into the polyfilla once it had set for a day or so.
I painted the road using Vallejo's London Grey as the base colour and then blended in some black raw pigment along the edges and over the cracks, highlighting with P3's Trollblood Highlight and Cryx Bane Highlight. Once that was dry I used a light brown wood stain and varnish to give it a dirty overtone. Unfortunately, this makes it somewhat glossy, so I then sprayed it with a matt varnish to tone it down a little. I then masked off area for the white line down the centre and stippled white paint along it.